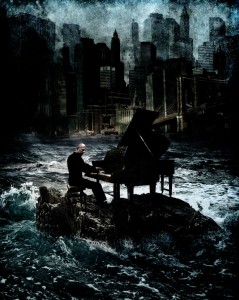 FINN ZIERLER
Keyboards
Prior to his solo career Zierler was/is the composer, lyricist, producer, virtuose keyboard player and founder of the acclaimed progressive metal act BEYOND TWILIGHT. Known for his complex compositions and technical abilities, varying his musical style throughout his career, incorporating elements of  cinematic horror, progressive metal, classical, jazz, bolero, waltz amongst others into his music Zierler has earned world wide critical praise and his diversity has led him to create music that is often difficult to categorize as anything else than ZIERLER.
His many complex composition contributions include: "The Black Box Of Reverse". A piece of music which is composed backwards but not entirely restricted to backwards as composition. The melodyline is composed and played backwards. The bassline is composed and played backwards as if it was recorded backwards. A mix between both in one composition.
Past The Magic" is compositions containing compositions within the compositions made of rhytmic laughter.
Zierler is widely regarded as one of the most passionate and exentric composers in the metal genre. In 2005 Sweden Rock Magazine nominated Finn Zierler as one of the 10 biggest excentrics in heavy metal history together with Jimmy Page (Led Zeppelin), Axl Rose (Guns n' Roses), Ritchie Blackmore (Deep Purple, Rainbow, Blackmore's Night), Michael Schenker (Michael Schenker Group), Timo Tolkki (Stratovarius), John Cyriis (Agent Steel), Mr. Doctor (Devil Doll), Roky Erickson (13th Floor Elevators), Vincent Crane (Atomic Rooster)
His keyboard style is unique and characterized by complex technics and patterns, this signature style has become one of the most recognized features in the music in which he is a part of.
In 2005 Whiplash Magazine published "Best of 2005" featuring Finn Zierler who they judged as one of the most influential musicians in the scene.
In 2006 Imhotep webzine featured Finn Zierler on their 2006 compiled list of who they judged to be of the most influential musicians in the scene.
Zierler started playing the accordian when he was six years old. Soon after he found interest in organs, pianos, synths and keyboards. Early discovered as a child prodigy he performed concerts in front of 5000-10.000 people from the age of 8. Zierler's deep interest in composing and arranging led him to write his first classical symphony at the age of 12. He later build his own musical notation system.
Zierler's album releases reaches back more than 20 years ever since making his recording debut with Twilight. At the age of 21 he signed with multinational publishing company Warner/Chappell Music. Twilight attracted international attention from the beginning, the debut album Eye For An Eye sold 25.000 copies.
The success climbed with Beyond Twilight. " The Devil's Hall Of Fame" became a classic within the progressive metal albums. He wrote the album without any instrumental aid during a trip into Africa, in the Atlas mountains and in the Sahara Dessert. Zierler recorded the album with vocalist Jørn Lande, (Yngwie Malmsteen), (Masterplan), (Allen-Lande), (Ayreon), (Ark). Many critics and fans cite this album as the most haunting in the progressive metal genre.
The follower "Section X" was written in 3 stages. First while he was locked up in a dark attic, then submerged under water in a cold lake and finally while living on the streets of London. The album was nominated for the Metal Storm Awards in the catagory "The Best Progressive Metal Album" together with Dream Theater "Octavarium", Opeth "Ghost Reveries", Porcupine Tree "Deadwing", Shadow Gallery Room "V", James Labrie "Elements Of Persuasion", Stream Of Passion "Embrace The Storm". The album was also nominated a DMEA award and in numerous medias as best progressive metal album.
His most complex and most succesful work until now "For The Love Of Art And The Making" – one ongoing composition containing 43 sections. It is 1 track of about 40 minutes. The album received rave reviews world wide and was announced as album of the year and month in several magazines amongst others Rock Hard. The album hit the no. 1 spot on the Top 100 Progressive Music Album Chart of 2006. The album also won the Dutch Progforum award for best prog album the same year.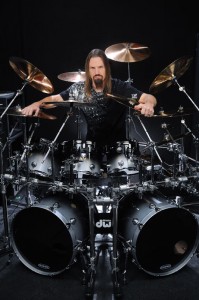 BOBBY JARZOMBEK
Drums
"He's like an illusionist on the drum kit. It's effortless and entertaining, and he's just brilliant", is how JUDAS PRIEST legend Rob Halford once described his first visual encounter with San Antonio, TX born and raised percussionist BOBBY JARZOMBEK.
While best known for his decade long tenure with the Metal God with whom he has recorded a half dozen albums and DVDs and toured the world several times over, Bobby's resume is extensive and reaches back a quarter of a century ever since making his recording debut with hometown boys JUGGERNAUT on the aptly titled 'Baptism Under Fire' in 1986.  Starting with the 1988 power metal classic 'Thundersteel', Bobby became an integral part of NYC metal institution RIOT, an affiliation that continues to this day, with the vaunted 'Thundersteel' line-up reuniting for 2011's much celebrated 'Immortal Soul' album.
In 1993, Bobby formed madcap prog/tech metal outfit SPASTIC INK with brother/guitarist Ron Jarzombek whose 'anything goes' approach spawned a sizeable cult following via a pair of mindboggling albums.  The ensuing years saw Bobby become a much in-demand studio and touring drummer in between HALFORD commitments, with acts such as ICED EARTH, DEMONS & WIZARDS, ROB ROCK and JOHN WEST utilizing his services.
In 2000, Bobby was voted 'No.1 Drummer' by the readers of Japanese heavy metal bible Burrn! in recognition of his work on 'Resurrection', Rob Halford's storming return to metal. He also caught the ears of America's premier drum publication, Modern Drummer, who called HALFORD's blazing sophomore release, 'Crucible', "a stunning slab of metal, and Bobby Jarzombek's drumming is a prime reason. On propulsive scorchers like 'Betrayal', 'Heretic' and 'Handing Out Bullets', the drummer shows astonishing power and precision. The Metal God knows how to pick 'em." SPASTIC INK's 'Ink Compatible' elicited a similar rave from Drum! Magazine: "Bobby Jarzombek is a monster to pull off this kind of dexterous drumming. He wades through the breathtaking linear patterns and riffs of 'Just A Little Bit', and the ridiculous 11/16grooving and instrumental call-and-answers of 'Multi-Masking'."
In 2006, Bobby was asked to join former Skid Row vocalist SEBASTIAN BACH's band with whom he recorded 2007's 'Angel Down' and its 2011 follow-up, 'Kicking & Screaming', both supported by extensive road work, including various arena tours around the globe supporting Guns 'N Roses.  Bobby has also been sitting behind the kit for progressive metal pioneers FATES WARNING for the past half dozen years and turned heads with a stellar performance on 2011's 'Sympathetic Resonance'  with FW off-shoot ARCH/MATHEOS, featuring original vocalist John Arch.
In 2002, Bobby independently issued his highly acclaimed drum instructional video, 'Performance & Technique', which was eventually picked up for international distribution by Warner Bros. Publications and re-issued by Alfred Publishing in 2006, receiving praise from drumming icons such as Mike Portnoy and Dennis Chambers.  Bobby also provided several drum tracks for the Oscar-nominated animated feature, 'Monster House', and was enlisted by famed producer Joe Barresi to record drums and cymbals for sample library project, 'Platinum Samples Joe Barresi Evil Drums for BFD', released in 2007, which led to another, more extensive collaboration with Platinum Samples, 2010's 'Bobby Jarzombek Metal MIDI Groove Library'.
BOBBY JARZOMBEK is endorsed by DW (Drum Workshop) / PDP (Pacific Drums and Percussion), Paiste Cymbals, Vic Firth Sticks, and Evans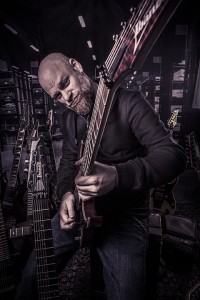 PER NILSSON
Guitars and Bass
Per is a multi instrumentalist. Best known as the lead guitar player in the highly acclaimed Swedish melodic death metal band SCAR SYMMETRY and progressive rock band KAIPA. He has released five successful albums with Scar Symmetry, three albums with Kaipa and he is featured as special guest on numerous albums playing a variety of musical styles exhibiting spectacular guitar skills. Known for his blazing virtuose explosive lead work, distinctive technical style, he showcases the most adventurous unique playing, his strong scalar sense with frequently shifting tonal centres, various legato techniques, slides, hammer-ons and pull-offs, various customized scales, sweep picking, the list is ongoing and there is really no end to his abilities. He primarily plays seven-string and eight-string guitars but plays 6 string for solos in the studio.
Per is endorsed by Ibanez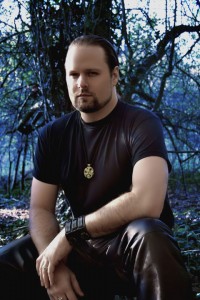 KELLY SUNDOWN CARPENTER
Vocals
Possessing a powerful multifaceted voice, a vast range and an undeniable emotional intensity, Sundown has received considerable attention and respect on the metal scene.
His first international release was the highly acclaimed BEYOND TWILIGHT "SECTION X" replacing vocal great Jørn Lande. Section X went on to receive rave reviews from metal fans and critics alike. The singer's dark, dramatic and vocally schizophrenic performance here earned him great praise and a place among the top vocalists in metal today.
In 2006 Sundown's American based band OUTWORLD released its debut album to strong reviews. In a performance often described as inhuman, Sundown's voice and melodies aggressively rip and tear their way through the churning technical guitar work of shredder Rusty Cooley, painting a bleak picture of Orwellian dystopia.
In September 2007, Sundown was called upon to join ADAGIO on their Japanese Tour. Given only a few days to learn the songs and without a single note of practice with the band, the singer delivered an outstanding performance and was treated to an overwhelmingly positive reaction from the Japanese fans.
Shortly thereafter Sundown joined forces with DARKOLOGY with guitarist Michael Harris(THOUGHT CHAMBER, ARCH RIVAL,VITALIJ KUPRIJ) & drummer Brian Harris(ex-FIREWIND) with bassist Mike Neal. Sundown recorded the vocals for "Altered Reflections" in Dallas at Nomad Studio (Pantera, Damage Plan, King Diamond). Many fans have declared Darkology the "underground saviours of true metal!"
Later that year CRIMSON GLORY invites Sundown to pay tribute to the late great singer "Midnight" at Prog Power USA X. Other special guests included : Rock (Rob Rock), Mark Boals (Royal Hunt), Wade Black (Crimson Glory/Leatherwolf), Zak Stevens (Savatage/Circle II Circle), Lance King (Pyramaze/Balance of Power), Nils K. Rue (Pagan's Mind), Chris Salinas (Zero Hour/Power of Omens), Ronny Monroe (Metal Church), Andy B. Franck (Brainstorm/Symphorce/Ivanhoe), Michael Eriksen (Circus Maximus), David Vanlanding (Crimson Glory/Michael Schenker Group)
Sundown's latest release was EPYSODE-OBSESSIONS (AFM Records) A supernatural thriller concept album in which he plays the role of Kallon, a profiler who is investigating a series of cold cases which lead him headlong into startling contact with the spirit world. EPYSODE boasts an incredible line up of talented recording artists from the rock, prog and metal scene including members from : AYREON, PAIN OF SALVATION, COMMUNIC, AT VANCE/THUNDERSTONE, BEAUTIFUL SIN, VIRUS IV, DIAL and ETHERNITY.
Now in ZIERLER Sundown has broken new ground, exploring his ever widening sense of melody and dramatic interpretation to soulful and heartrending effect.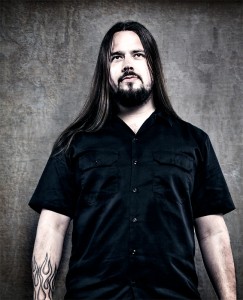 TRULS HAUGEN
Vocals & bass live
Truls is best known as the drummer in Norwegian Grammy nominated extreme metallers INSENSE and in the critically acclaimed progressive metal band CIRCUS MAXIMUS, but in ZIERLER he takes the vocal duties alongside Sundown and will handling the bass guitars live. Truls is a multi instrumentalist. He startet playing guitar when he was 9 years old and growing up with Truls' brother Mats Haugen, you can say he learned his early chops from the best. Truls was also a longtime member of Norwegian cybermetallers, Black Comedy, handling the bass guitar. He has released 4 albums with Insense and 3 albums with Circus Maximus. Both bands has toured worldwide as headliners. Truls has also done session work with Glen Hughes (Deep Purple, Black Sabbath) in Ken's Dojo, with Beyond Twilight and numerous others and helping out bands on tours as stand in drummer and vocalist amongst others Kvelertak and Pagan's Mind. In ZIERLER Truls is showcasing his outstanding voice and range by performing razor sharp accuracy from extreme power to crystal clean vocals regardless of the range he is singing in.